MORE THAN FIVE YEARS OF WORK ,
OVER 10,000 ARK HAND MOLDING PAPER,
TRAVEL TO JAPAN,
AND THEN PRINTED IN DIFFERENT ART GRAPHICS TECHNICIAN
IN 99 COPIES.
THE BOOK IS READY!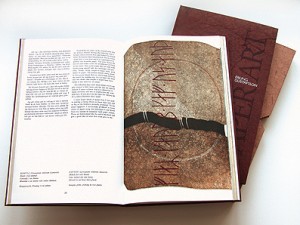 After five years of work book bound by hand. And clear.
Hand molding of over 10,000 sheets of paper in several different grades. Printing of 17 graphic images and 3 original in pulp painting and marbling. Staining with Kaki – shibu of kozopapper to the book's covers. It has been a very exciting journey but also patience.
Further, it has become a showcase of previous works . Also on hand molded paper printed with laser and inkjet. The work is also documented that movie on a DVD. All lying in a cassette dressed with kozopapper.
I have worked with graphics since the late 1970s, and a little later I begin to form my first sheets of paper using Lessebo handmade paper.
Over the years, I have since built up a working mill in miniature now in the house that my wife and I live in since 1999.